TENAX puts the world's most modern production line into operation
TENAX starts up world's most modern production line
"Not marginal improvements, but a leap forward in development" is what TENAX and Windmöller & Hölscher set as the goal of their development partnership in 2018, which reaches an important milestone some three years later with the commissioning of the world's most advanced and highest-performance production line at the TENAX paper sack factory in Ratingen.
With the AM 8735 New Generation (NG) tubular machine and the AD 8930 NG valve bottomer, Windmöller & Hölscher is setting new standards. Standards from which TENAX customers can initially benefit exclusively thanks to the development partnership with the world's leading manufacturer of machines for paper sack production.
New Generation Quality
Real added value for TENAX customers
A noticeable increase in quality, especially in the production of complex industrial sacks – among other things, this was the focus of the development of the "New Generation" production line from Windmöller & Hölscher.
"Together we have pushed the boundaries of what is possible," explains Reinhard Schulze-Edinghausen, Managing Director of TENAX Papiersackfabrik, after the world's first production line of its kind went into operation at TENAX in Ratingen in Juny 2021.
TENAX customers, some of whose complex industrial sack designs are already produced in a state-of-the-art production facility using modern nozzle gluing technology, can expect additional added value from the new production line. These include:
Improved gluing
Optimized valve designs
Optimum reproducibility for post-production runs
In addition, due to its enormous production speed (up to 400 sacks per minute), the new production line increases the production capacities of the Ratingen-based specialist for industrial sacks by around 15 percent.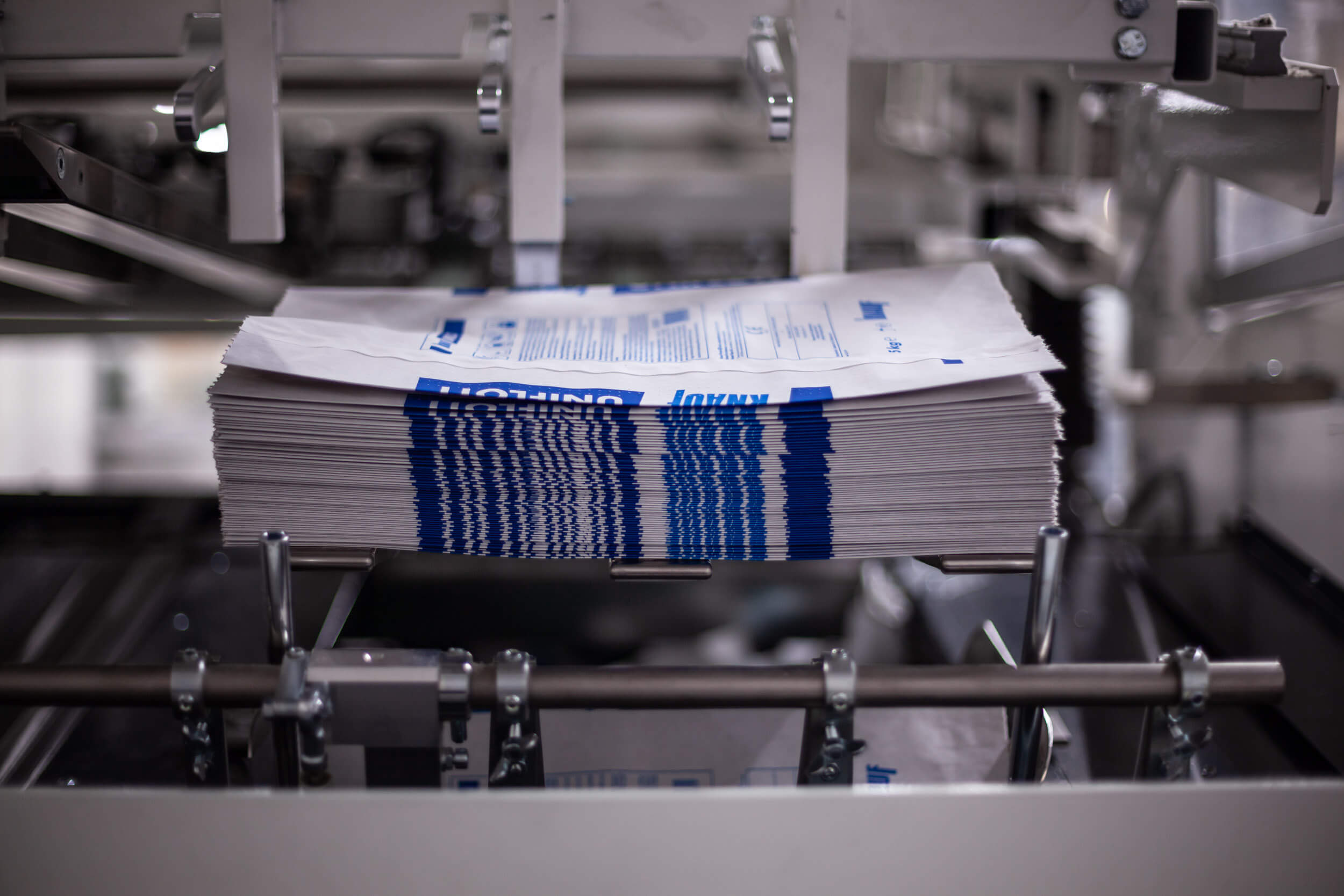 Goal set. Goal achieved.
A strong innovation partnership: TENAX and Windmöller & Hölscher.
"Of course we were proud when W&H asked us in 2018 if we would like to accompany them as an innovation partner in the development of their new machines," explains TENAX Managing Director Schulze-Edinghausen, adding, "Windmöller & Hölscher stands for first-class machine quality in the field of paper sack production like no one else. That our company should now support the development of the next generation of these machines, which will set standards worldwide in the years to come, was both an honor and a mandate."
From the very beginning, the common goal was to leverage process optimization potential and to increase the performance of the machines not just marginally, but disproportionately. This goal has been achieved. The result of the joint development work by TENAX and W&H can be seen not only in the considerable increase in production output, but also in the end product itself. For example, the quality of gluing was significantly improved and the accuracy of the valve designs was further optimized by more precise positioning of new types of drives.
The development cooperation worked extremely well. Already during project planning, TENAX dealt with existing "bottlenecks" and the question of which technologies within the machines should be improved to what extent, among other things.  In order to achieve higher performance and optimized production results, innovative solutions were developed in a permanent exchange between Windmöller & Hölscher and TENAX, which took the best possible account of process engineering wishes and needs from the market.
Facts & Figures
W&H New Generation: AM 8735 / AD 8930
Hose machine AM 8735 digital-pasting NG
Automatic reel change
New machine software
New user interface
Visualization of the transfer system
Valve bottomer AD 8930 digital-pasting NG
Modified feeder and feeder with its own drive system
Individual drives of the aggregates
Metal detector
Optimized Transfer II with 33 cycles/min.
New machine software
New user interface
Preventive Maintenance
Acromat 3+
Modified gantry guides (very quiet & precise)
Output max. 33 packages/min.
TENAX Expert consultation
In order to support you as quickly as possible with your specific challenge, we ask you 4 questions about your project. A qualified contact person will get back to you within 30 minutes (Mon – Thurs, 8 am – 5 pm and Fri, 8 am – 1 pm).
… or use our contact form

WE WILL GET BACK TO YOU AS SOON AS POSSIBLE