Valve sacks from TENAX
High quality industrial packaging made in Germany
Paper valve sacks are among the most popular industrial packaging – for good reason: in terms of filling performance, paper valve sacks impress with maximum filling speed, clearly outperforming sacks made of plastic. The reason for this lies in the quality of the kraft paper processed. TENAX uses only high-elongation Semi Clupak paper made from long-fiber softwoods, which ensures first-class TEA values and maximum air permeability.
Especially when packaging fine powder products – such as cement or flour – TENAX customers benefit from our high-quality sack designs, which guarantee absolute impermeability combined with high venting performance. In addition, TENAX paper valve sacks are convincing in terms of sustainability: they are made from renewable raw materials sourced from responsibly managed forests and can also be recycled up to eight times until they are disposed of in a biodegradable way.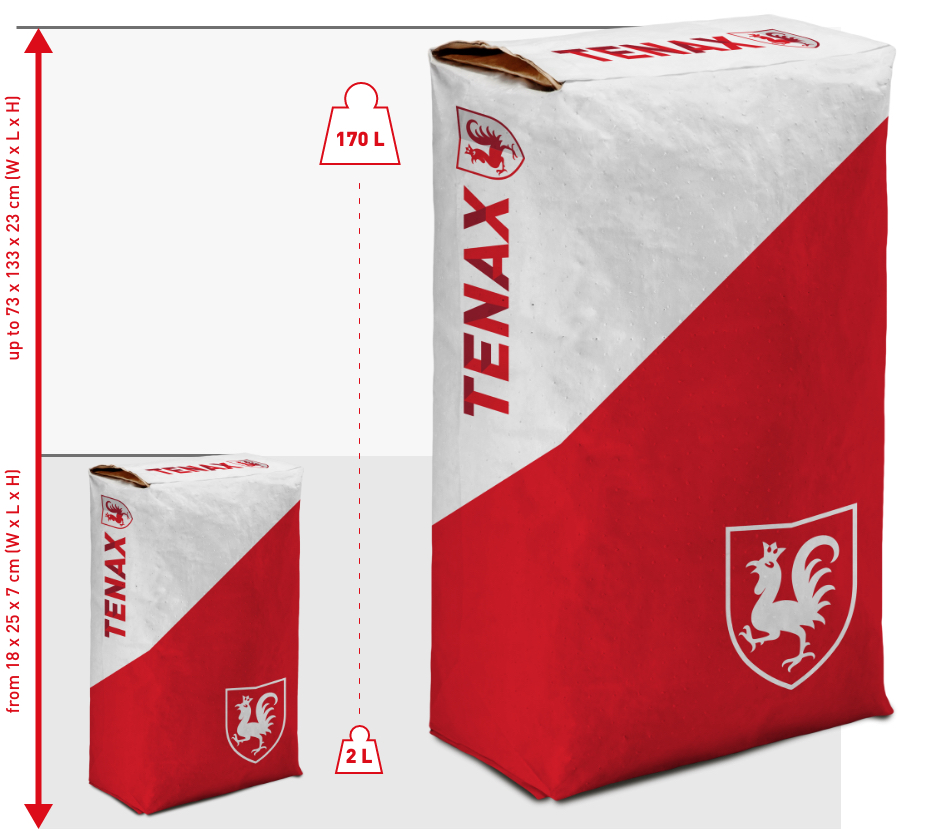 Optimal product protection
Our paper sacks keep tight – in the truest sense. Your products are optimally protected and can be safely transported or stored.
Completely customizable
What unites our products: 100% quality at fair prices. All other requirements like material selection or film thickness are customizable.
100 % user friendly
We design our paper sacks to be convenient to carry and to be easy to use without instructions.
Focus on sustainability
Our TENAX paper sacks are manufactured on the basis of renewable raw materials, they are biodegradable as well as recyclable.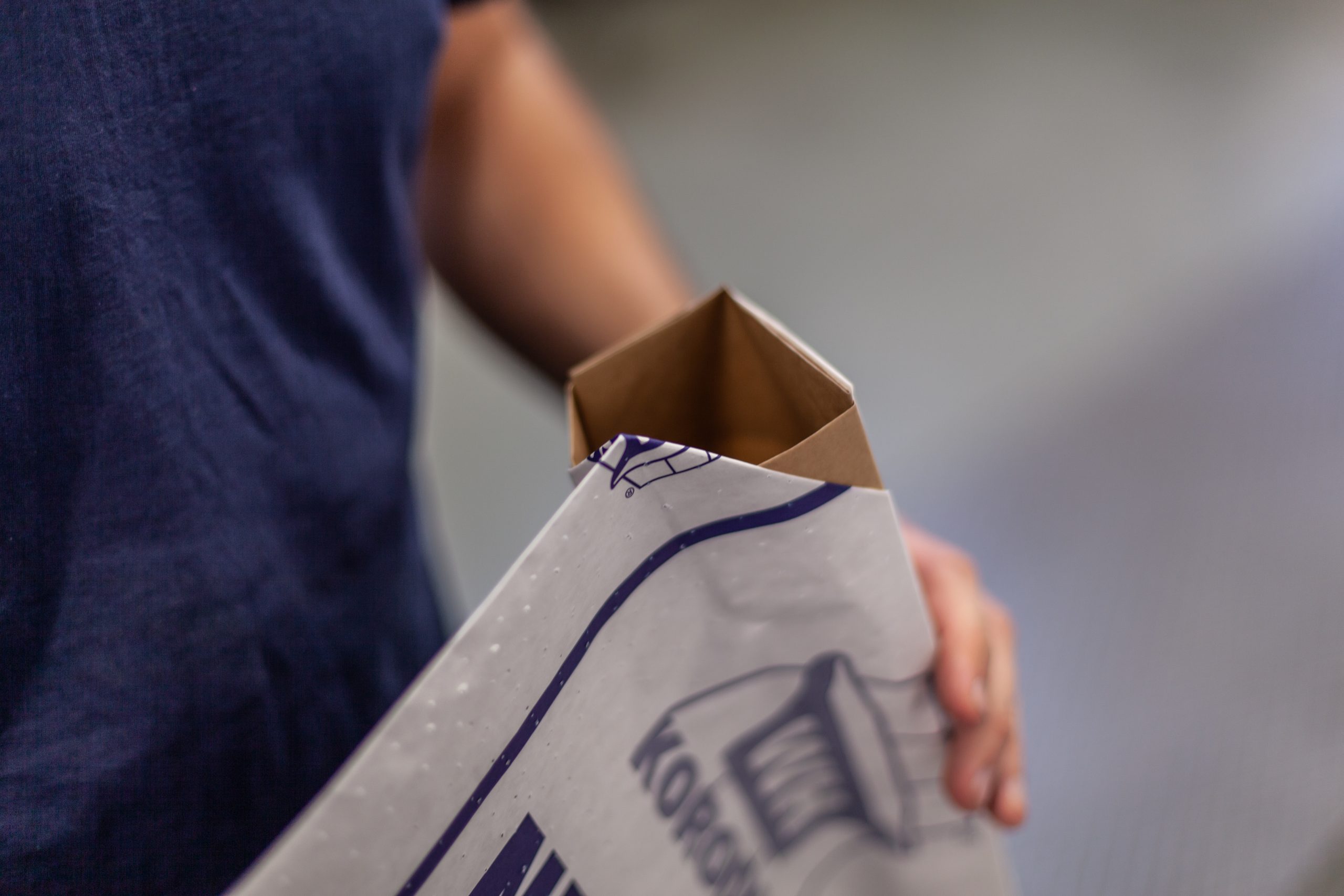 Customized industrial packaging
TENAX valve sacks
TENAX valve sacks – high quality, high performance and tear resistant. These properties are common to all our sacks – you can define all other requirements yourself if required. TENAX paper valve sacks can be flexibly adapted to individual areas of application, different filling materials and different filling techniques. We also adapt 100 % to your needs in terms of dimensions and production quantities: we offer our high-quality valve sacks in formats ranging from a minimum of 18 x 25 x 7 cm to a maximum of 73 x 133 x 23 cm. They can hold from 2 to 170 liters, depending on your requirements. You are also free to choose the size of your paper sack batch. Whether it's a repeat production or a large order: we are there for you and produce from 10,000 to 1 million paper sacks for you in one year.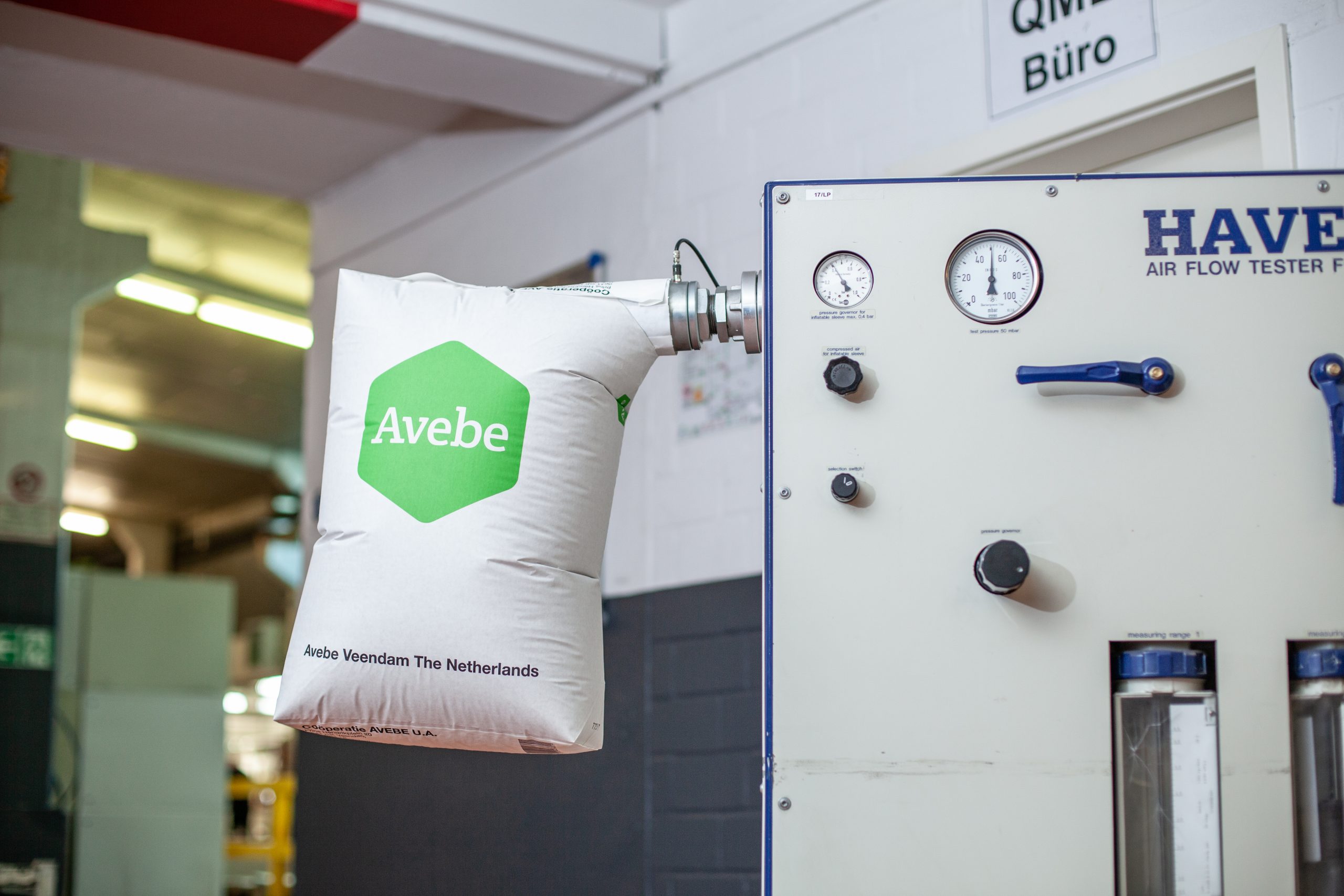 Innovative valve technology
High-quality paper valve sacks from TENAX
The requirements for paper valve sacks are increasing from year to year. Clever valve designs are needed to provide the best possible protection for the packaged product and at the same time to ensure fast filling. Whether it's self-closing filling openings, water-soluble thermal valves, or maximum filling speed with absolute impermeability, our experts will work with you to find optimal packaging solutions. In our in-house TENAX test laboratory, we develop tailor-made industrial sacks for you, which we produce in our modern machinery in compliance with the highest quality standards. To enable efficient further processing for you and pleasant handling for your customers, we also equip our valve sacks with various helpful product options if required, such as sturdy carrying handles or an anti-slip coating.
Product options for your valve sack
Various valve designs
Adapted to the respective customer requirements
Venting concept
Optimum air permeability – even with un-needled film – for fast filling
Thermal valves
Ensure a clean closure by welding
Sturdy carrying handles
For safe and comfortable handling
Opening aid
For simplified, convenient product removal
Anti-slip coating
For optimal grip during palletizing, loading and storage
Protective coating
Strong against various external influences and staining
Quality printing
Produced by flexographic printing process, choice of up to eight spot colors
Internal foils
Guarantee particularly high stability, even with products containing residual moisture
Water-soluble papers and adhesives
For disappearing sacks, for example D-Sack
Inner latch
For reliable unsurpassed impermeability
They rely on TENAX paper sacks
» We support these and many other national as well as international brand manufacturers.
TENAX Expert consultation
In order to support you as soon as possible with your specific challenge, we ask you 4 questions about your project. A qualified contact person will get back to you as quickly as possible (Mon – Thurs, 8 am – 5 pm and Fri, 8 am – 1 pm).
… or use our contact form

WE WILL GET BACK TO YOU AS SOON AS POSSIBLE