TENAX paper sacks for animal feed
Highest quality packaging for optimal protection and easy handling
Whether for livestock or pet food – our TENAX paper sacks are ideal for storing and transporting feed. We offer individual solutions depending on the filling material and adapt our high-quality paper sacks, whether valve sacks or cross bottom sacks, to the requirements of the respective product. Thanks to innovative anti-slip coating, TENAX paper sacks are very easy to palletize, and the high print quality protects against external influences and staining.
Our TENAX paper sacks are made of natural kraft paper and are safe for humans and animals as well as for the contents packed in them. At the same time, they are characterized by maximum tear resistance and impermeability and are particularly convenient and safe to handle thanks to sturdy carrying handles and a practical opening aid. The proven TENAX feed sacks can withstand even large filling quantities thanks to the use of high-quality materials and flawless workmanship. After use, the TENAX paper sacks can be recycled in an environmentally friendly way at REPASACK GmbH.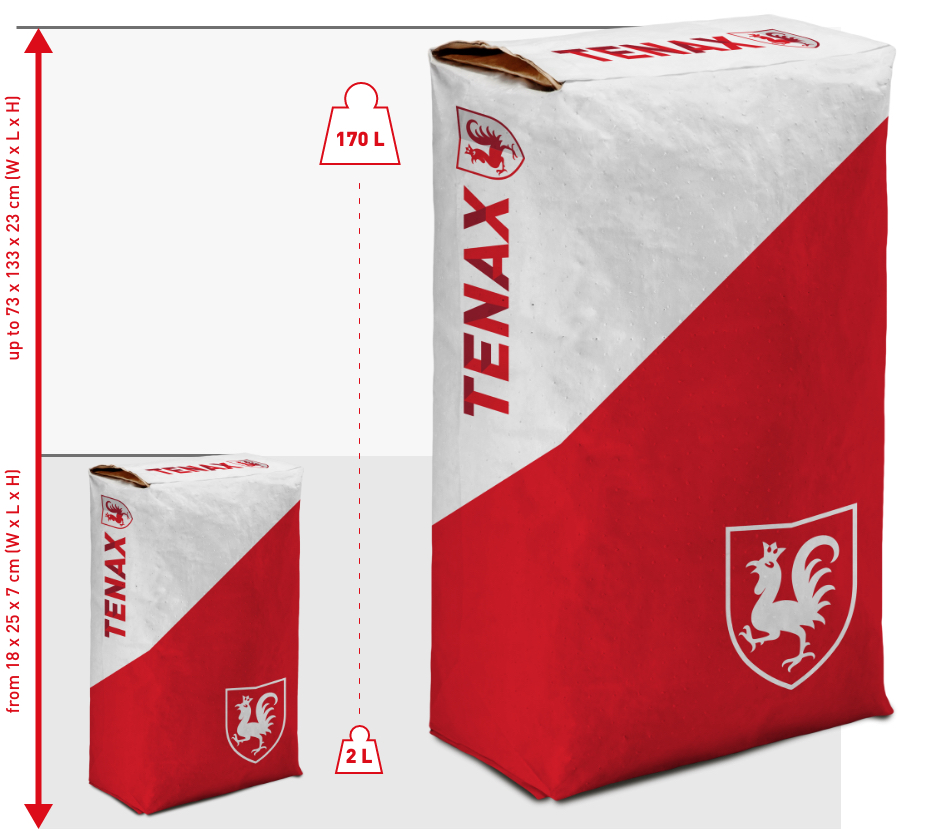 Optimal product protection
Our paper sacks keep tight – in the truest sense. Your products are optimally protected and can be safely transported or stored.
Completely customizable
What unites our products: 100% quality at fair prices. All other requirements like material selection or film thickness are customizable.
100 % user friendly
We design our paper sacks to be convenient to carry and to be easy to use without instructions.
Focus on sustainability
Our TENAX paper sacks are manufactured on the basis of renewable raw materials, they are biodegradable as well as recyclable.
Amongst others, suitable for…
Whether roughage or concentrated feed: safely and dryly packed in the TENAX paper sack
Livestock feed
Grain, corn or minerals packed cleanly and environmentally friendly
Pet food
The right TENAX paper sack for every type of pet food
and many more
Individual sack designs for a wide variety of feeds
They rely on TENAX paper sacks
We support these and many other national as well as international brand manufacturers.
Product options for your paper sack
Sturdy carrying handles
For safe and comfortable handling
Anti-slip coating
For optimal grip during palletizing, loading and storage
Protective coating
Strong against various external influences and staining
Quality printing
Produced by flexographic printing process, choice of up to eight spot colors
Opening aid
For simplified, convenient product removal
Inner foils
Guarantee particularly high stability and tightness
Processed barrier layer
Protects the product from moisture and aroma influences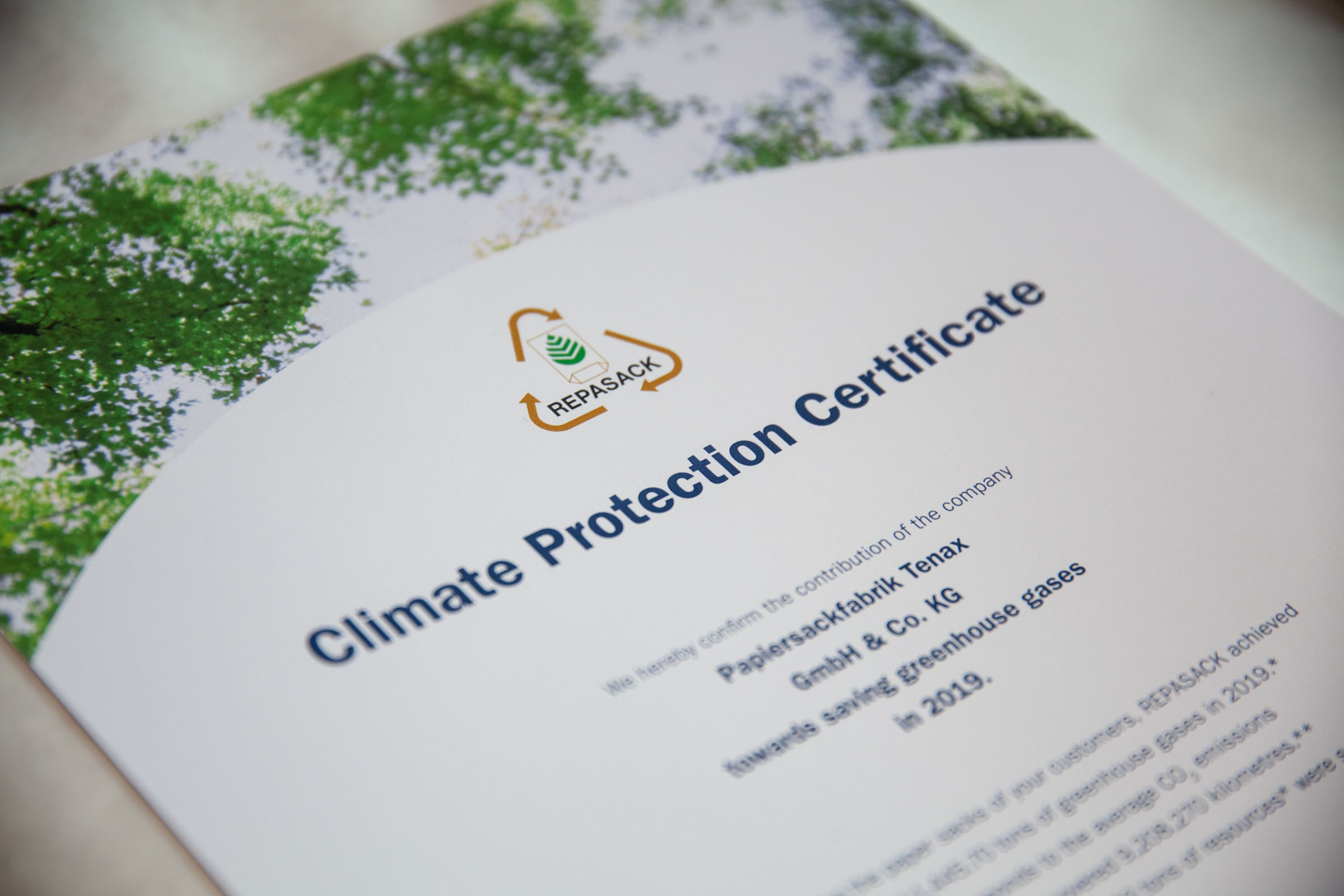 Recyclable paper sacks from TENAX: added value for the environment
Our TENAX paper sacks are manufactured on the basis of renewable raw materials. They are biodegradable and serve as a natural CO2 reservoir. As a result, their CO2 footprint is significantly lower than that of other packaging materials. Another plus in terms of environmental protection is that TENAX paper sacks can be recycled at REPASACK GmbH after use. The REPASACK system guarantees the proper return and recycling of used paper sacks from trade and industry in accordance with the Packaging Ordinance. In the process, the material is cleaned and processed, and non-recyclable materials are disposed of. This recycling system for used paper sacks is unique in the world, offers special added value for the environment and at the same time saves resources and costs.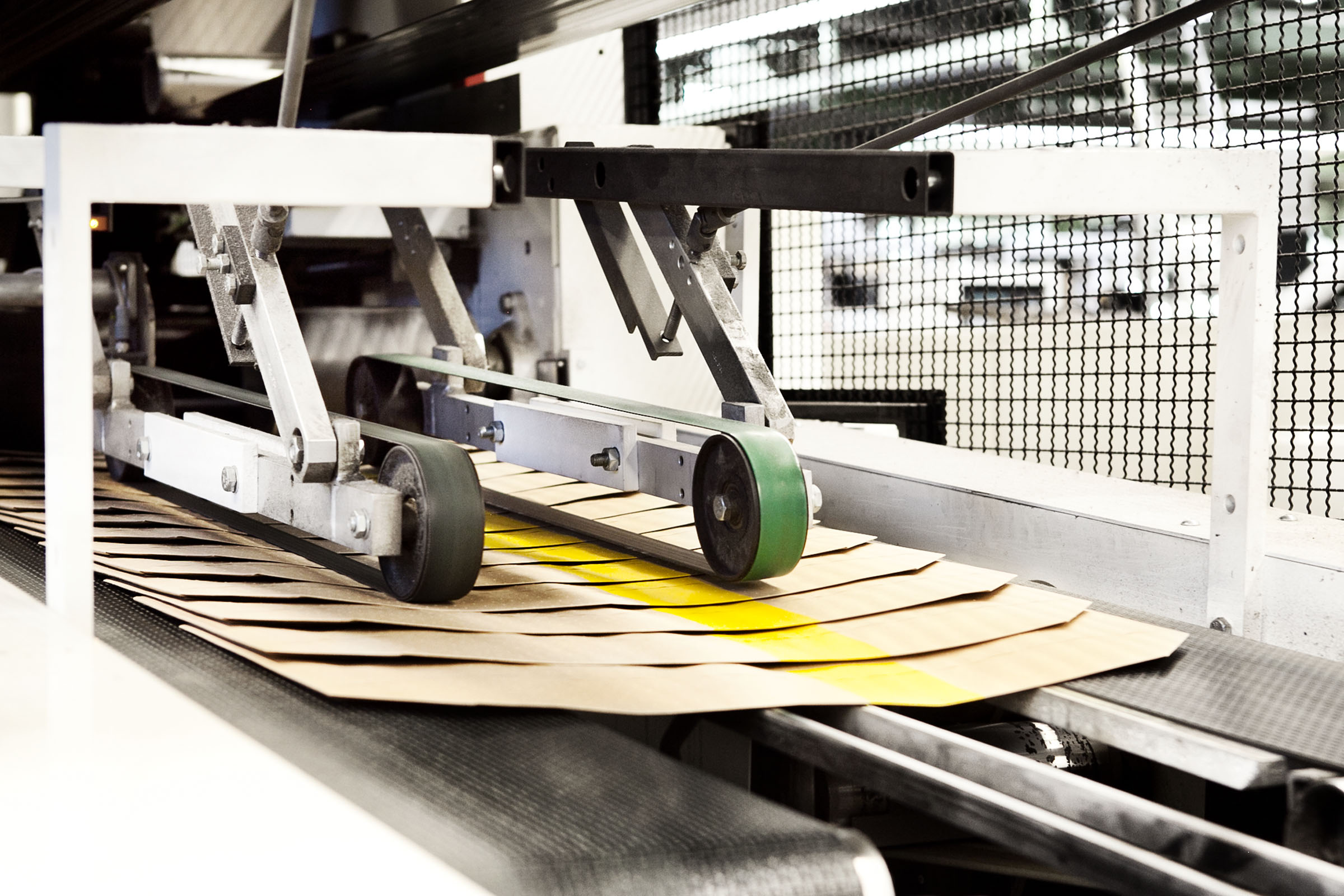 Your "one of a kind" sack for maximum economic efficiency
We plan and design the most economical paper sack packaging for you. Focus always on:
Best possible product protection
Functional added value for your customers
Resource-saving production
Increase in filling speed
TENAX Expert consultation
In order to support you as soon as possible with your specific challenge, we ask you 4 questions about your project. A qualified contact person will get back to you as quickly as possible (Mon – Thurs, 8 am – 5 pm and Fri, 8 am – 1 pm).
… or use our contact form

WE WILL GET BACK TO YOU AS SOON AS POSSIBLE