Zero Waste industrial sacks from TENAX
It's like they were never there: Self-dissolving paper sacks
Urbanization continues unabated, with new buildings springing up on every corner. The consumption of building materials is higher than ever before. Every day, countless industrial sacks of concrete mix are carried across construction sites, laboriously opened and dumped into the concrete mixer causing large clouds of dust.
How about industrial packaging that solves these problems and protects the environment at the same time?
Our cooperation partner BillerudKorsnäs has thought further about industrial packaging made of paper and created exactly what sounds almost impossible. The BillerudKorsnäs D-Sack does not dissolve into thin air – but it does dissolve in the concrete mixer. Without sacrificing packaging quality and safety.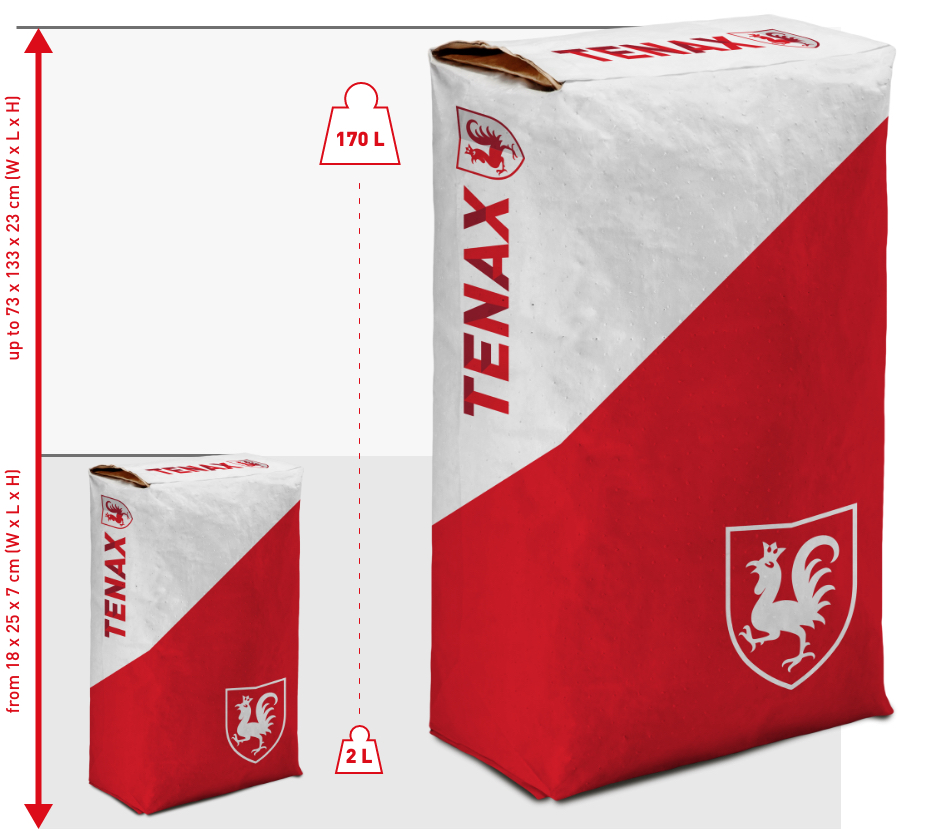 Optimal product protection
Our paper sacks keep tight – in the truest sense. Your products are optimally protected and can be safely transported or stored.
Completely customizable
What unites our products: 100% quality at fair prices. All other requirements like material selection or film thickness are customizable.
100 % user friendly
We design our paper sacks to be convenient to carry and to be easy to use without instructions.
Focus on sustainability
Our TENAX paper sacks are manufactured on the basis of renewable raw materials, they are biodegradable as well as recyclable.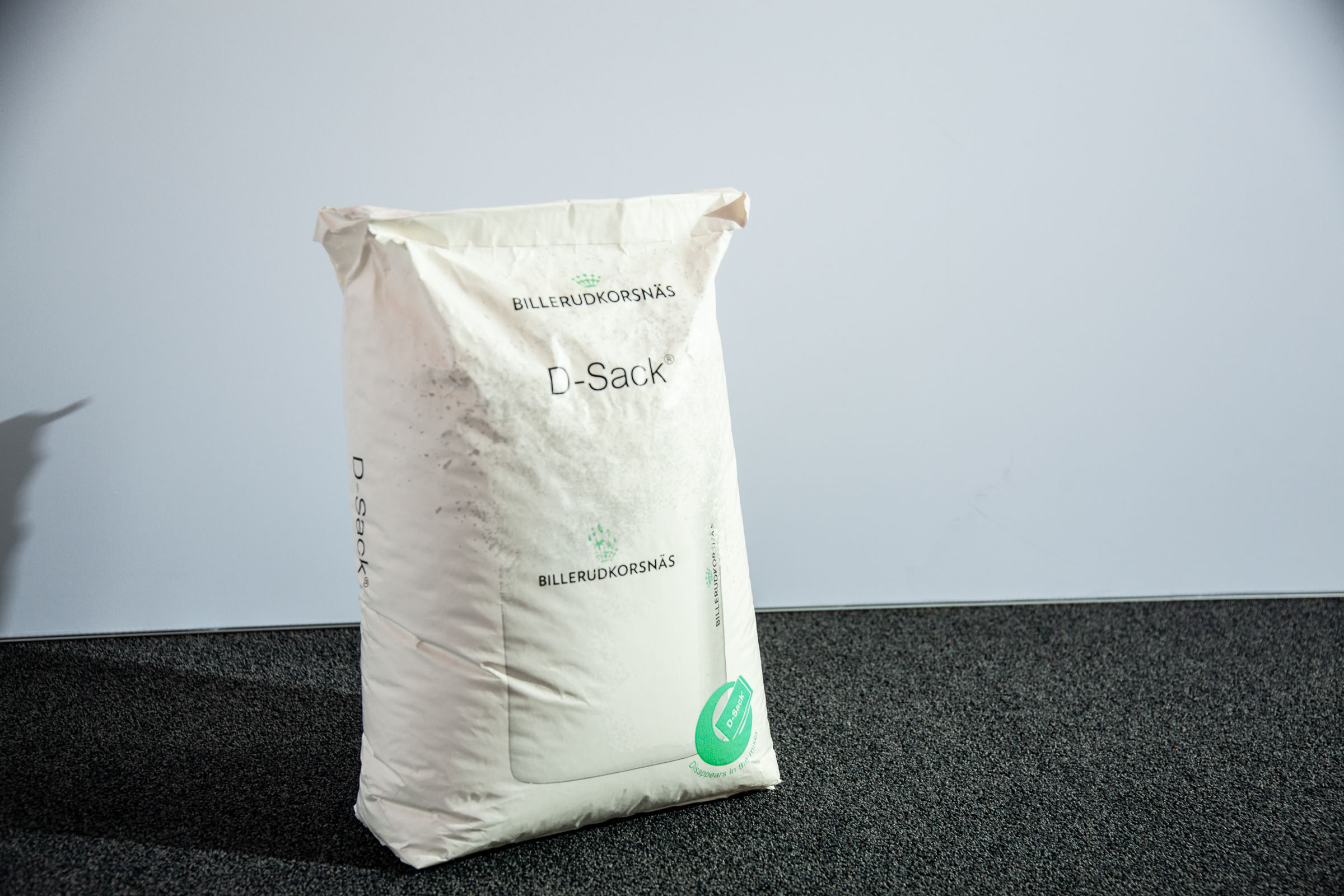 Climate positive!
No waste – no emissions: TENAX paper sacks to put into the concrete mixer.
Like all TENAX industrial packaging, the BillerudKorsnäs D-Sack is completely recyclable and compostable. However, these properties are actually not necessary. Due to the fact that the D-Sack can be placed unopened in the concrete mixer and dissolves into tiny paper fibers within six minutes, there is no packaging waste to be recycled after the work is done. The wood fibers used here also generally come from sustainable forestry and the production of the D-Sack causes no emissions. On the contrary! The CO2 stored in the used wood is not released even when the paper sack is dissolved, and is thus fully absorbed into the fabric of the building in question. This makes the BillerudKorsnäs D-Sack not only zero emission, but also climate positive packaging.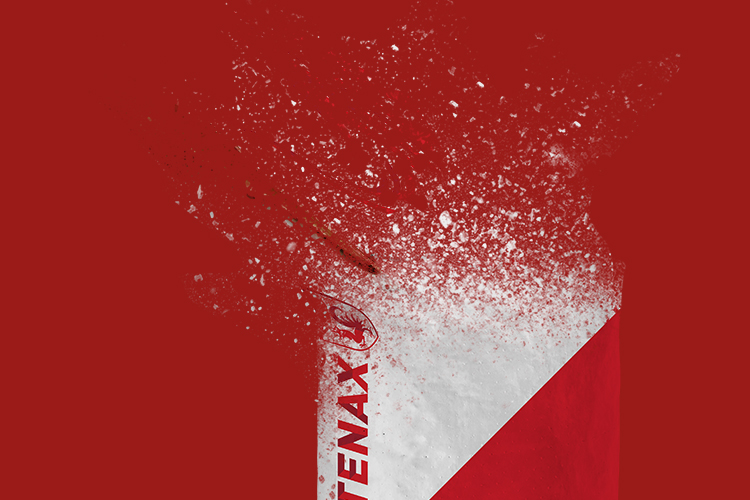 0 % emissions – 100 % TENAX quality
Disappearing packaging with convincing properties
In terms of quality, the self-dissolving paper sack is in no way inferior to conventional industrial packaging. The D-Sack fully meets the TENAX quality standard. The self-dissolving building material sack ensures maximum impermeability and optimum product protection. The D-bag disintegrates into tiny paper fibers during the concrete mixing process. The fibers left behind in the process make up only 0.05 % of the ready-mixed concrete mass. Tests carried out by third parties have so far not detected any effects of the residual fibers on the mixed end product (cement or mortar). However, corresponding tests are the responsibility of the user.
Moreover, despite its self-dissolving property, the D-Sack ensures the same durability and "shelf life" as conventional cement bags. Your product is also optimally protected from rain and moisture. In addition, like the classic paper sack, the D-Sack can be printed in the highest quality, so your brand shines in all its glory on the self-dissolving industrial sack.
Your customers will also thank you for the D-Sack – because in addition to the "vanishingly" low costs for recycling, the unused residual quantities in the packaging and the clouds of dust during mixing also tend towards zero. This protects the lungs of the processors and thus their health in the long term.
Water-soluble papers and adhesives
For self-dissolving sacks
Various valve designs
Adapted to the respective customer requirements
Venting concept
Optimum air permeability for fast filling
Thermal valves
Ensure a clean closure by welding
Sturdy carrying handles
For safe and comfortable handling
Anti-slip coating
For optimal grip during palletizing, loading and storage
Protective coating
Strong against various external influences and staining
Quality printing
Produced by flexographic printing process, choice of up to eight spot colors
Inner latch
For reliable unsurpassed impermeability
They rely on TENAX paper sacks
» We support these and many other national as well as international brand manufacturers.
TENAX Expert consultation
In order to support you as soon as possible with your specific challenge, we ask you 4 questions about your project. A qualified contact person will get back to you as quickly as possible (Mon – Thurs, 8 am – 5 pm and Fri, 8 am – 1 pm).
… or use our contact form

WE WILL GET BACK TO YOU AS SOON AS POSSIBLE